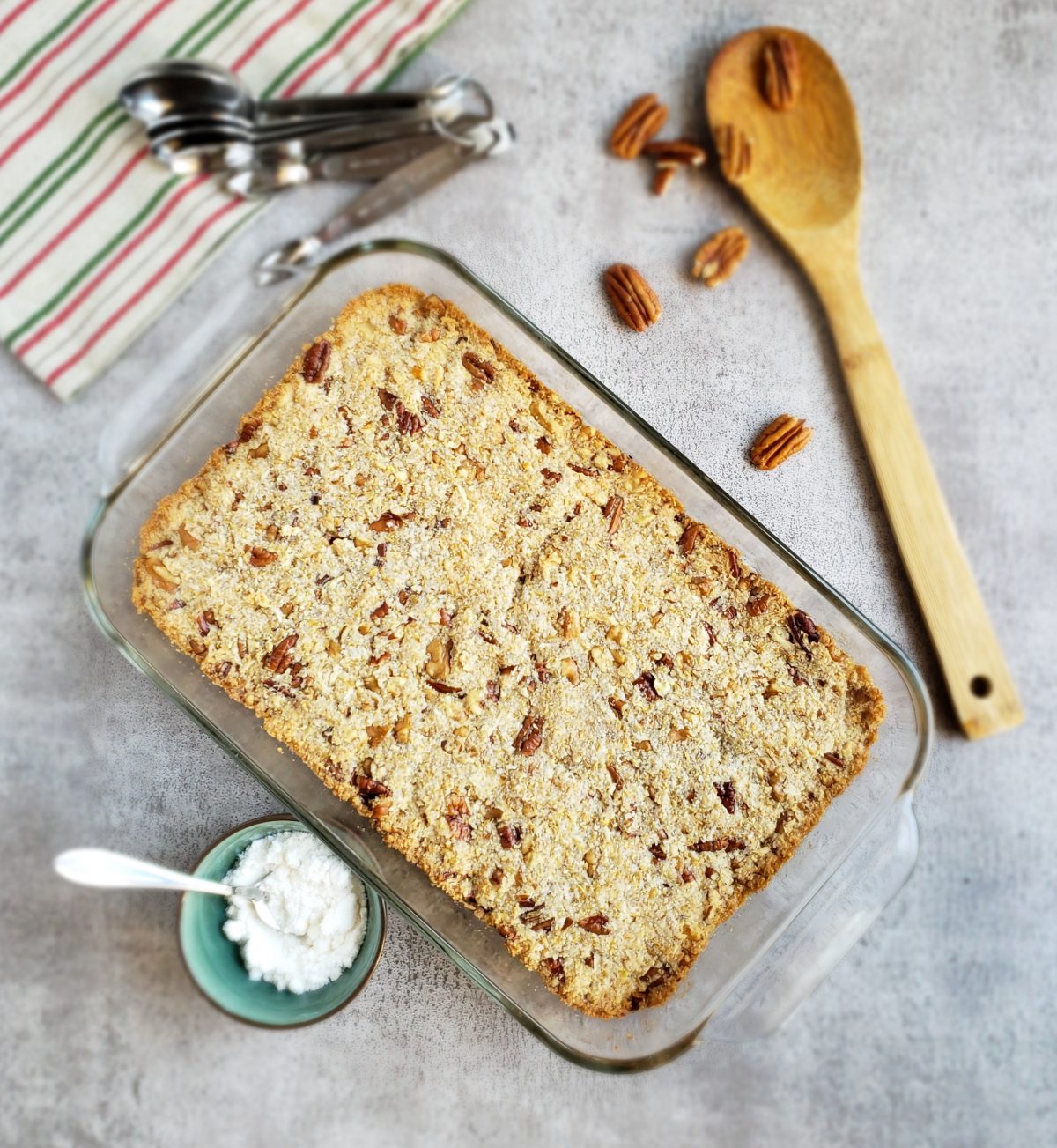 In addition to making your whole house smell like a bakery, these banana nut bread bars are a perfect replacement for any meal. They're super yummy, filling, and satisfying.

These banana bread bars have become one of my favorite keto quick fixes. When I'm in a giant hurry in the mornings or I get that 4pm craving in the afternoon – or even on the way home after work from my desk job and hate everything… I know I can have one of these bars.
I LOVE banana bread. And these bars really check all the boxes: they are full of healthy ingredients (including fat), so I feel full quickly. And they actually taste like banana bread, which satisfies a very particular craving for me when I need it.
This recipe is set up for pecans because they are my favorite, but you can use walnuts or any other keto safe nut, just remember to adjust your macros since the fat/carb/protein content will most likely change with any ingredient change. Most of the time, people use either walnuts or pecans. Let's take a look at the difference between these two healthy nuts…
Pecans Versus Walnuts
Walnuts and pecans both contain unsaturated fat, which is known to lower cholesterol levels. Both are similar in overall nutrient value, and make a great addition to your keto way of eating.
Overall, both pecans and walnuts contain similar amounts of total fat, but differ slightly in unsaturated fat. An ounce of walnuts contains about 18 grams of total fat, while pecans contain over 21 grams. Unsaturated fat is broken down into two subgroups: mono- and polyunsaturated. Mono and polyunsaturated fats are healthy forms of fat attributed to heart health and cholesterol reduction. Walnuts contain about 2.5 grams of monounsaturated and about 13 grams of polyunsaturated fat per ounce. Pecans, however, contain 12 grams of monounsaturated and less than 6 grams of polyunsaturated fat per ounce. Walnuts are higher in omega-3 fatty acids, which are found in polyunsaturated fats. This type of fat not only aids with heart health, but can also prevent stroke, control blood clotting, and build brain cells.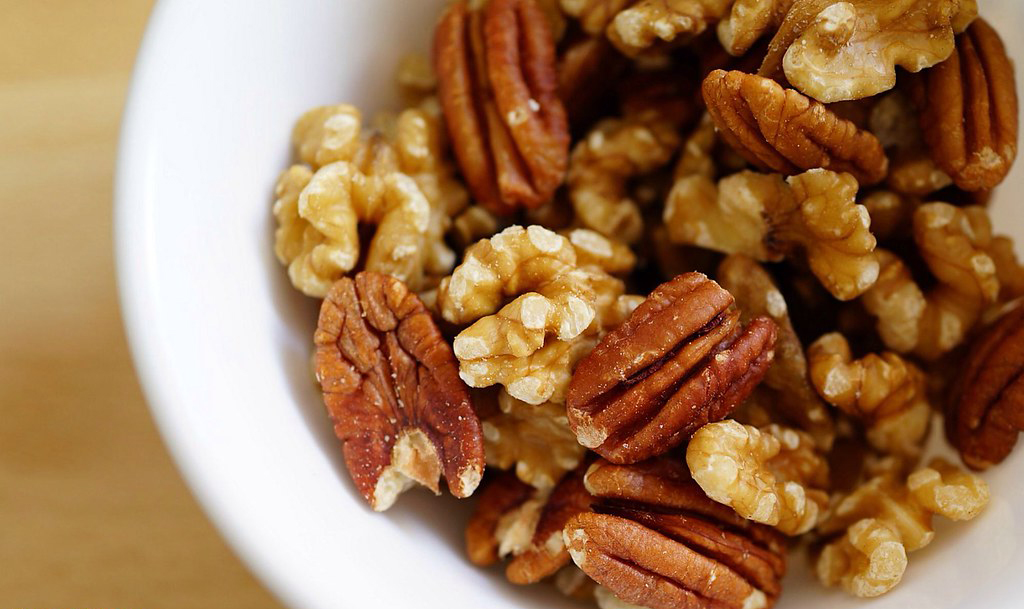 Pecans vs Walnuts: Protein and Carb Comparison
Nuts (for the most part) have a moderate amount of protein and low carbohydrates. Walnuts are a little higher in protein and about equal in carbs to pecans. One ounce of walnuts has 4.3 grams of protein and about 4 grams of carbs. The same serving of pecans contains 2.7 grams of protein and 4 grams of carbs.
Fiber
As we know, fiber makes us feel full longer, helping us eat less. Nuts like walnuts and pecans are a great choice for keto cooking because they're both high in fat and contain a moderate amount of fiber. And as we know from keto school – fat also promotes satiety (that full feeling). An ounce of pecans has about 2.7 grams of fiber, while an ounce of walnuts has only 2 grams.
Calories
Although nuts are a great, healthy option for keto – if you're trying to shed some pounds, or even maintain, you still have to watch and weigh your servings of them. An ounce of pecans has over 200 calories, while an ounce of walnuts has over 180! To give you a visual: an ounce of nuts is about 1/4 cup. That's not a ton of nuts if you're having a snack portion. So really watch your nut portions – weigh them out, just like everything else. Remember, snacks count! No free-feeding.
Nuts: watch your portions!
I can say from experience that nuts have seriously stalled my keto weight loss plan in the past. So if you've hit a plateau, there a few things you can do, but certainly examine your nut intake and dial it back, if needed. It's okay if you're counting them as part of a recipe, just don't absentmindedly snack on them (or anything, for that matter) without watching and weighing them.
Banana Nut Bread Bars
In addition to making your whole house smell like a bakery, these banana nut bread bars are a perfect replacement for any meal. They're super yummy, filling, and satisfying.
Ingredients
Dry
2

cups

Pecan or Walnut Pieces

1

cup

Almond Flour

1/2

cup

Flaxseed Meal

1/2

cup

Shredded Coconut (Unsweetened)

3

tbps

Erythritol
Wet
1/2

cup

coconut oil

4

tbps

any sugar-free breakfast syrup

1/8

tsp

banana extract

(4 or 5 drops or to taste)
Instructions
Preheat your oven to 350F and toast the nuts for about 9 or 10 minutes. Keep an eye on them after the 8 minute mark, they're easy to burn. Once fragrant and toasty, take them out immediately and set aside.

While the nuts are toasting, combine the rest of the dry ingredients in a medium mixing bowl, combine with a whisk or fork.

In a separate mixing bowl, combine the wet ingredients. Mix well.

Add the nuts to the dry ingredients, mix.

Add the wet ingredients to the dry ingredients and mix until thoroughly combined.

Line the bottom of an 11" x 7" casserole dish with parchment paper. Press the mixture into place with a large spoon or spatula. To get it perfect, lay a sheet of plastic wrap over it and press with your fingers to get it as flat as you can.

Bake for 20-25 minutes at 350F. Remove and let it cool to room temperature. Once cooled, cut into 12 even slices and leave in the casserole dish.
Chef's Notes
I like to keep these in the refrigerator until the day I take them with me since coconut oil can soften at room temp.  But don't worry, they're fine if you'd rather keep them in the cupboard.
Nutrition Facts
Banana Nut Bread Bars
Amount Per Serving
Calories 314
Calories from Fat 279
% Daily Value*
Fat 31g48%
Sodium 12mg1%
Potassium 143mg4%
Carbohydrates 9g3%
Protein 5g10%
Vitamin A 9IU0%
Vitamin C 1mg1%
Calcium 49mg5%
Iron 1mg6%
* Percent Daily Values are based on a 2000 calorie diet.
Subscribe
&

Receive A Free eBook
Responsive innovate grok latte disrupt intuitive actionable insight SpaceTeam grok. Human-centered design Steve Jobs.
We do not spam. You can unsubscribe anytime.