Do not underestimate the awesome power of the simple egg. If you're looking for one of the healthiest, most affordable, easy to prepare, readily available sources of protein and nutrients available, look no further than the noble egg.
Eggs: the Good Stuff
Eggs can trigger hormones that increase satiety and stabilize blood sugar levels. One large egg has around 75 calories, 7 grams of quality protein, a little less than one carb, and about 1.5 grams of saturated fat.
But to get to the good stuff, you gotta eat the whole thing since most of the nutrients are in the yolk. The yolk contains the super important carotenoids like lutein and zeaxanthin. And let's not forget about the brain boosting power of choline, along with the benefits of iron, vitamins, and minerals.
Not all eggs are created equally.
I like to use Pastured, Free Range eggs that have been eating natural, organic foods. These eggs have exponentially more times the Omega-3 content. If the price tag on these eggs seem too high, compare that to the cost of one fancy coffee or even a normal priced lunch. Change your mindset and put your health first. Spend an extra couple of dollars on the eggs. After all, you can either spend the extra money at the grocery store, or at the doctor. You choose.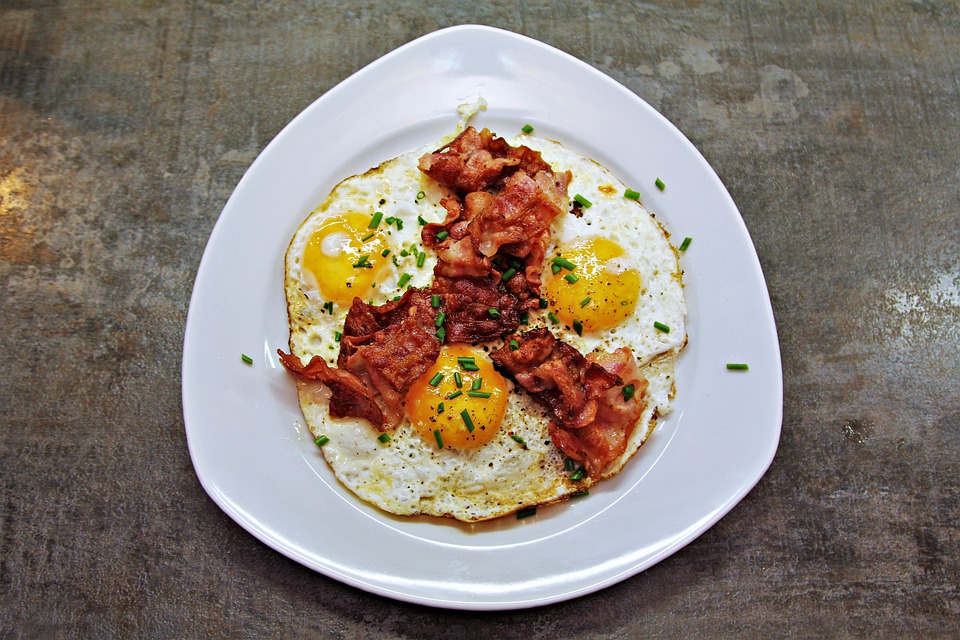 Cholesterol in Eggs
Before completely writing off foods with marked levels of cholesterol, you should understand how cholesterol actually works in your body.
When your body is in a state of increased inflammation for any reason, cholesterol steps in to try to reduce that inflammation. Without cholesterol in your body, your liver has to work overtime to make it because you cannot live without it. Remember that Coronary Heart Disease happens when the small cholesterol particles (LDL) get stuck in a lesion in the artery wall. Lesions are caused by inflammation.
If you have very low inflammation in your body and no lesions, then the LDL has nowhere to get stuck and passes through without causing those dangerous plaque buildups in the arterial wall. High levels of carbohydrates and sugar intake put the body in a state of increased inflammation.
It's well known that atherosclerosis is an inflammatory disease. Without this inflammation or disruption to the arterial wall, the cholesterol would never get lodged in there, and therefor never get stuck or cause the plaque buildup that causes the disease.
In short, we need to reduce our inflammation to reduce unheathly levels of triglycerides and LDL cholesterol. I am one of those people with total cholesterol over 300 when eating a SAD (Standard American Diet), but after understanding how cholesterol actually works, I asked for a breakdown of my LDL, HDL, and Trigycerides.
Trigylerides are markers of inflammation. Typcially, your doctor wants to see levels at 75 or lower. After 6 months eating keto, mine were at 31. My doctor had never seen that before. I was pretty proud of myself.
Many people have similar levels of cholesterol as me and have no plaque in their arteries. If you really want to know your risk of coronary artery disease, get your calcium score (this is a test that measures the amount of calcium in the walls of your hearts arteries, which can be a sign of plaque buildup).
Now that you understand the basics of how cholesterol works in your body, hopefully you understand it's not the bad guy. It's merely a bodily response to inflammation. A few ways to reduce inflammation are to reduce your intake of processed foods and sugar, exercise (but don't overdo it), have time to yourself to de-stress, and get plenty of sleep.
Sources
https://nutritiondata.self.com/facts/dairy-and-egg-products/111/2
https://www.ncbi.nlm.nih.gov/pubmed/20226994
https://www.ncbi.nlm.nih.gov/pubmed/16373948
https://www.ncbi.nlm.nih.gov/pubmed/10426702
https://www.ncbi.nlm.nih.gov/pubmed/23021013
Basic Egg & Coffee Breakfast
Eggs any way with a keto coffee. Quick, easy, simple, go!
Ingredients
1

cup

coffee

or tea if you prefer

1

tbsp

unsalted butter

grass fed is best (kerrygold is a popular brand)

1

tbsp

quality coconut oil

or MCT oil

2

large

eggs

organic, free range

1

tbsp

light tasting olive oil

(not extra virgin)
Instructions
Add the olive oil to a skillet over medium heat.


While it's heating, brew a cup of your favorite coffee.


Once the pan has heated, add eggs (whisk eggs beforehand for scrambled) to the skillet. Salt and pepper as needed. Cook until it's reached your desired consistency - remember, eggs will continue to cook once removed from heat, so be careful not to overcook them. Once you're satisfied, remove from pan and set aside.

While eggs are cooling slightly, mix a cup of coffee with the butter and/or coconut/mct oil in a blender until frothy.

Enjoy!
Chef's Notes
Chef's Notes
Customization for Cholesterol: If you're trying to improve your cholesterol levels, consider making Collagen Nut Coffee instead, as it is made with a tablespoon of macadamia nut oil, which is shown to improve cholesterol counts.
Customization for weight loss: If you want to reduce the caloric load on this recipe, use only one tablespoon of fat in your coffee, instead of two.
If it take a few tries to get your eggs perfect, don't worry, that's normal. I like to take them off the heat and get them out of the skillet (dump them onto a plate) while they're still shiny and a little wet. 
Nutrition Facts
Basic Egg & Coffee Breakfast
Amount Per Serving
Calories 507
Calories from Fat 450
% Daily Value*
Fat 50g77%
Cholesterol 452mg151%
Sodium 168mg7%
Potassium 273mg8%
Carbohydrates 1g0%
Protein 15g30%
Vitamin A 967IU19%
Calcium 64mg6%
Iron 2mg11%
* Percent Daily Values are based on a 2000 calorie diet.
Subscribe
&

Receive A Free eBook
Responsive innovate grok latte disrupt intuitive actionable insight SpaceTeam grok. Human-centered design Steve Jobs.
We do not spam. You can unsubscribe anytime.